Our Team
We believe in our team that surrounds us, we encourage, we inspire and we like to keep the creativity alive. Each of our floral designers have full qualifications in floral design though of course are unique in each strength and by working alongside one another we all learn, teach and motivate each another to keep creating.
Melissa Hart - Floral Director
Co-Owner at Blooms on Darby Mel is by far the most experienced in floral design, having her hands and heart in the game for over twenty five years. After starting her florist apprenticeship in Sydney she has since owned multiple florist studios throughout regional NSW. With an eye for seeing the beauty in the strange of the flora and fauna world, give her a twisted stick and bucket of blooms and watch her create a botanical masterpiece.
Fave Blooms: Hydrangea, Peonies, Driftwood - is that a flower?
Why Floristry: To create
Flowery Vibes: one off floral creations, unusual, texture
Natalie Hart - Floral Director
The other Co-Owner at Blooms on Darby Natalie is all about the rambling, overflowing romance inspired by flowers. Growing up in her mothers (Melissa's) flower shops you would find her hiding small invitations amongst the flowers to a fairy ball. With over six years in event management and ten plus years in the floral world (by choice and not as a daughter!) you can be sure you will get a wildly romantic design out of her.
Fave Blooms: Tulips, O'hara Roses, David Austin Roses (Jules)
Why Floristry: The Romance
Flowery Vibes: Wild, Rambling, Poetic,Sweet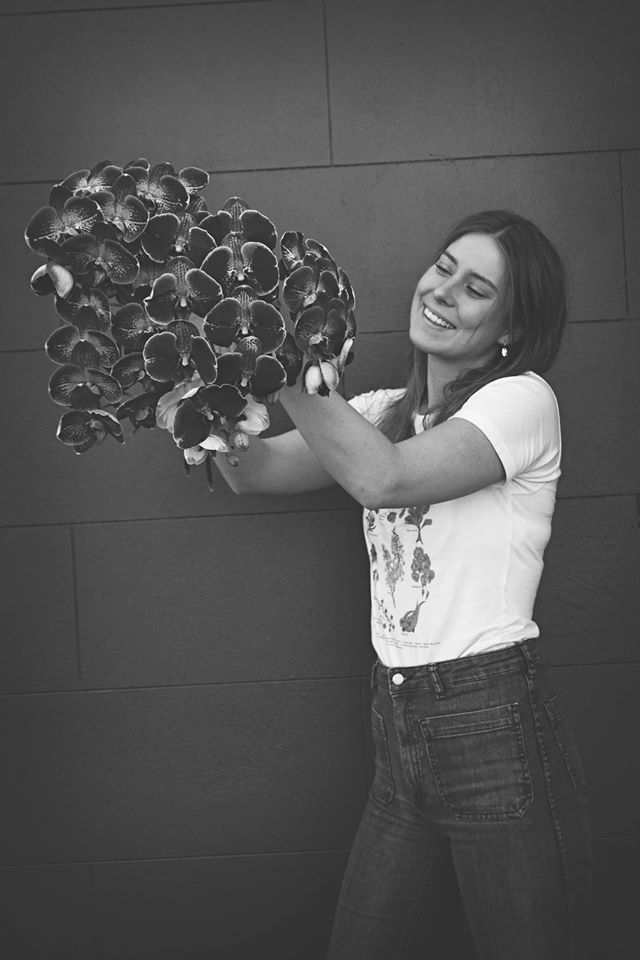 Samantha - Floral Designer
Fave Blooms: Cherry Blossom, Cymbidium Orchids, Tropical Leaves
Why Floristry: The Euphoria
Flowery Vibes: Modern, Natural, Fanciful, Experimental
Nichola - Floral Designer
Fave Blooms: Renunculus, Hydrangea, Dahlias
Why Floristry: The Visual Impact and Emotions
Flowery Vibes: Adventurous, Whimsical, Quirky
Emily - Junior Floral Designer
Fave Blooms: Quicksand Roses, Hydrangea, Dahlia
Why Floristry: Creative Passion
Flowery Vibes: Unique, Beautiful, Texture, Whimsical
Lucy Belle - The Tiny Florist
Fave Blooms: Anything I can pull out of a bucket and smell
Why Floristry: Family Ties - My Mummy Natalie has had me hanging out on Darby Street since I was three days old.
Flowery Vibes: I am learning flower arranging though I still prefer putting the plants away and drinking baby cinos
Ruby - Flower Cat
Resident Flower Feline who does a whole lot of sniffing, sitting and purring for attention, she even has her own instagram @rubywithflowers